Regular price
Sale price
$7.50 USD
Unit price
per
Sale
Sold out
Introducing Whipped Rehab Soap & Scrub. Our luxurious, colorful soap is whipped to perfection for a rich, creamy lather. Experience deep pore cleansing and exfoliation to leave your skin feeling softer and smoother. Perfect for everyday use and gentle enough for all types of skin.
** Product can melt in warmer months. Please make sure to check delivery dates and to grab as soon as it is delivered! Thank you! **
Share
View full details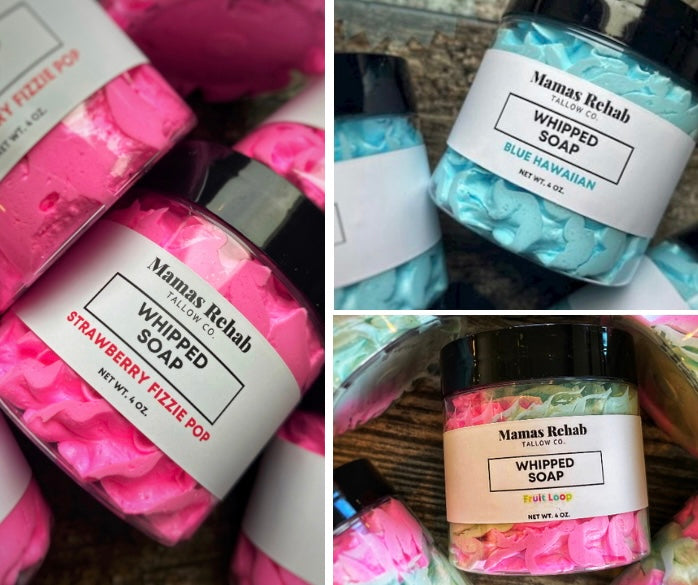 My body craves the simple ingredients of these products. The whipped sugar scrub lasts forever and leaves your skin feeling clean without any residue. My skin is healthier and softer after using the soaps with the body butter. I ran out of body butter and had to wait for another batch to ship and had to resort to using bath and body works and my skin protested! I now happily have more products!
Smellmazing
The grandkids picked out the apple pucker soap to use tonite. I had went to the kitchen and boy did the smell fill my house up with the amazing scent! And they may have used 3/4 of the jar. Time for new!
Sugar Scrub and Body Spray
Absolutely love these products!
Love the whipped soaps
I absolutely love the whipped soaps! Lasts forever and my skin feels fresh and soft after using!
BEST SOAP EVER
I have used the whipped sugar scrub and the whipped soaps, they are both equally as amazing the sugar scrub isn't too abrasive and it doubles as a soap. I feel clean and fresh every time I use the scrub/ soap. And it feels good knowing what I am putting on my body. This soap also keeps you moisturized, again the scent is to die for and it relaxes me after a long day. I always feel so much better using the soap and then the matching body butter right after !